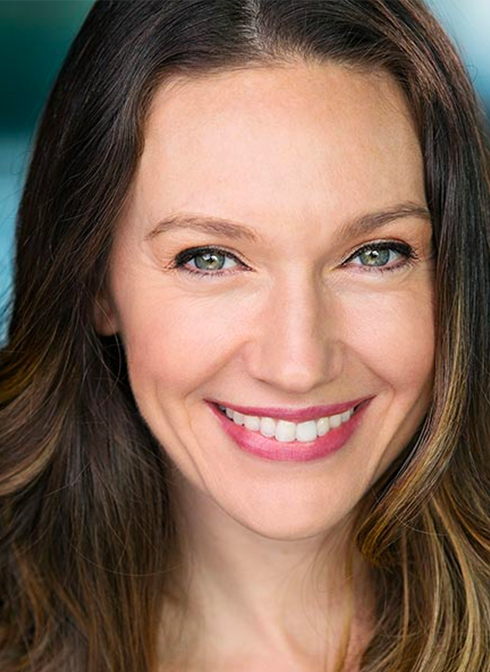 SARAH LOWE!
---
Sarah Lowe is an actress, comedian, writer, and choreographer. A veteran theater actor, and third generation "show biz" (Her grandmother was Ruby Keeler!) Sarah was most recently in the hit show JERSEY BOYS and can be seen opposite Julianne Moore in the film GLORIA BELL.
Some of her favorite credits include BRIDESMAIDS, CRAZY EX-GIRLFRIEND, A CHRISTMAS STORY, LIVE! on FOX, MAMMA MIA, and 42ND STREET as Peggy Sawyer, for obvious reasons. Sarah is also known for being one third of the critically acclaimed comedy trio, THE APPLE SISTERS (ECNY Best Musical Act, NYIT Outstanding Original Music). As a choreographer, her work was recently seen on the 2018 and 2019 GENERAL HOSPITAL Nurses Ball and assisted Kathryn Burns for the CW's hit show, CRAZY EX GIRLFRIEND.
She has also choreographed for AMERICA'S GOT TALENT, DAYS OF OUR LIVES and multiple youtube video's for sketch comedy groups including her own group The Apple Sisters. Sarah also will sing Proud Mary at any open mic or karaoke or place that will allow her. You have been warned.
MY RESUME
FILM
| | | |
| --- | --- | --- |
| LESSONS WITH MARTHA | Jill | Dir. Matthew Johnson |
| GLORIA BELL (2019) | Jen | Dir. Sebastián Lelio |
| BRIDESMAIDS | Lillianette | Universal/Dir. Paul Feig |
| CONSENT, A SHORT COMEDY ABOUT A SERIOUS SUBJECT | Reyna (Bartender), Choreographer | Dir. Kimmy Gatewood |
TELEVISION
| | | |
| --- | --- | --- |
| CRAZY EX GIRLFRIEND | Saga Sell dancer, Assistant Choreographer | CW |
| THE GONG SHOW | Performer with The Apple Sisters | Comedy Central |
| GUIDING LIGHT | Nurse Rachel (day player) | CBS |
| GENERAL HOSPITAL | Diane (u/5) | ABC |
| ONE LIFE TO LIVE | Juror (u/5) | ABC |
| PASSIONS | Demon (u/5) | ABC |
| THE APPLE SISTERS (various) | Seedy Apple | YouTube |
| EXTRA | Waitress (with Jim Belushi) | E! |
| THE FANTASTIC 2 | Missy | Ironbound Films (Mini-Series) |
| A CHRISTMAS STORY LIVE | Seedy Apple - The Apple Sister | Warner Brothers |
| CONAN | The Apple Sisters | TBS |
| AMERICA'S GOT TALENT | Performer with cast of Jersey Boys | ABC |
THEATER
| | | | |
| --- | --- | --- | --- |
| JERSEY BOYS | Swing/Dance Captain | Palazzo, Las Vegas | Des McAnuff |
| TITLE OF SHOW | Susan | Town Square Theatre, Las Vegas | Matt Donnelly |
| MAMMA MIA | US Sophie | Mandalay Bay, Las Vegas | Phyllida Lloyd |
| THE APPLE SISTERS | Seedy Apple, Choreographer, Actor, Singer, Composer, Writer | UCB (NY&LA), Largo (LA) | Tom Ridgley/Kevin Chesley |
| URINETOWN | Little Sally | Matrix Theater, LA | Calvin Remsberg |
| THE DONKEY SHOW | Helen/Vinnie | Off Broadway, NY | Diane Paulis |
| 42ND STREET | Peggy Sawyer | Palace Theater, NH | Ron Schwinn |
| PIPPIN | Player | Theater League Tour | Glenn Casale |
| GYPSY | US Louise | Cabrillo Center Theater, CA | Lewis Wilkenfeld |
| NO NO NANETTE | US Winnie | Glendale Center Theater, CA | Gwen Hillier |
COMMERCIALS
| | | |
| --- | --- | --- |
| RESCUE LAWYERS | Superhero | |
| BMW | Daughter | |
| GOLD'S GYM | Voiceover | |
TRAINING
| | | |
| --- | --- | --- |
| Improv | UCB, PIT, SECOND CITY (Teacher list available upon request) | |
| Acting | Gwen Hillier, Bob Lambert, Brooke Thomas, Mary Egan | |
| Dance | Broadway Dance Center, NY , Edge, Millennium, LA | |
SKILLS
Improvisation | Three Part Harmony | Basic Sword Play | Stage Combat | Sports (Softball, Basketball, Football) | One handed Cartwheel | Most dialects | Some Sign Language | Some Espanol | Driver's License | Crazy Alarm Voice Sound. |
Contact me
MANAGER
HAVEN/Jennie Church-Cooper
8111 Beverly Boulevard
Suite 201
Los Angeles, CA 90048
(323) 272-3433 office
jcc@haven.la

TV/FILM
Kara Slocum
FSE Talent
kara@fsetalent.com
www.fsetalent.com
Phone: 213-531-0547 x715

THEATER
Nicole Pryor Dernersesian
Firestarter Entertainment
nicole@fsetalent.com
www.firestarterentertainment.com
Phone: 213-531-0547 x701